Added: 4 August, 2007
Group: Photoshop
Creating flames using Adobe Photoshop
Author: Jason
page: 1
Creating Realistic Flames Tutorial
You need an object in flame. Preferably, done in Photoshop. This tutorial covers all your demands. Simplified instructions will help you make realistic flames.
Essentially this tutorial is divided into 2 sections: first I will show you how to create flames and then we will implement this technique to create an orb (see "Orb Tutorial") on fire.
Tools/terms:
Step 1. First, think about what a flame looks like – is it 1 single color? Does it have 1 single form or shape? No, of course not. A flame is a combination of red and yellow (mix those and you get orange). Then, there are many different hues of brightness's of those colors red, yellow, and orange.
By the way, create a new document :)
400px by 400px, 72 resolution, RGB 8 bit, and transparent background.
Step 2. Basically we are going to be drawing several different tones of red, yellow, and orange with the brush tool, then use the smudge tool to create the appearance of fire. Get out your brush tool and then layout your base using those three colors and different tones of those colors.
Using a brush diameter of around 14-16px. It may not look like much now but once you smudge it up, it'll look like good flames. Also, add in a white or black background so you can see the flames better. (New layer, "D", "X", "Alt-Backspace)
Step 3. Using the smudge tool around the size of 8-10px, strength: 70%.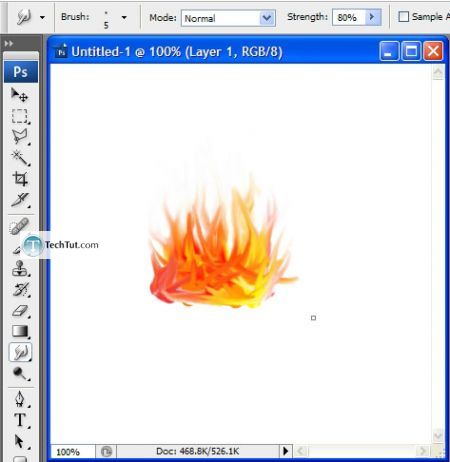 As you continue to work with it, feel free to change the strength (to create longer flames) and the size (to create thinner or fatter flames). In addition to that, also add in different colors when they are lacking. Making the flames too much of any color loses the realistic feel to it.
It's beautiful…I know.
Step 4. Now it's time to implement this into the "Orb Tutorial" in order to create an orb on fire. Get out the orb picture (or make one really quickly). Now, transform the flames so that they are behind the orb and make them the right size too.
At this point, feel free to add in some more flames if your flames don't fit the orb completely.
Step 5. Now to add in flames on top of the orb. Just use the same technique that we used to create the flames.
Done! Quick and easy.
GO to:
Page 1 : Creating Realistic Flames Tutorial
TechTut.com This tutorial is copyrighted. Partial duplication or full duplication is prohibited and illegal. Translation or usage of any kind without author�s permission is illegal.

Join our RSS feed
Use our RSS feed to get the latest published tutorials directly to your news reader.