Added: 15 October, 2007
Group: Photoshop
Car tuning photoshop tutorial white lights
Author: Photoshoper
page: 1
Photoshop tuning White lights
In this Tutorial we will learn how to make from the old yellow flashing lights modern fancy white lights.
1. Zoom in the flashing light? and take the Polygonal Lasso Tool(L) and draw around it, then hit SHIFT+CTRL+U to desaturated it,and then use Brightness/Contrast,Match color or combine it till you're satisfied with the new look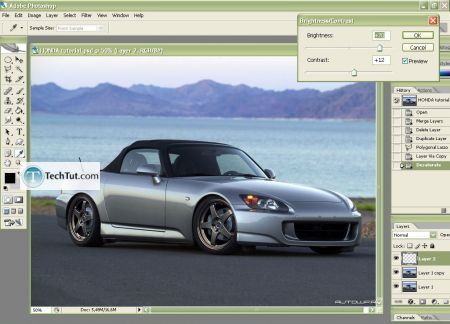 2. Do the same with front lights: hold CTRL and hit + several times to zoom in and use again the Polygonal Lasso Tool(L) to isolate the lights,right click>Layer via Copy to duplicate this part and repeat the procedure
3. Image > Adjustments>Photo Filter then Image >Adjustments>Hue/Saturation to match the color with the front lights or as desired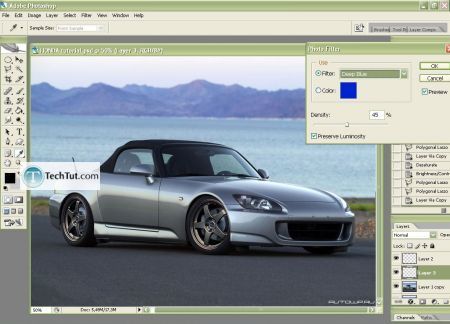 4.Now c take the Dodge Tool and settings like on the pics Range-Highlights ,Exposure 3%,use the smooth brush and step by step go over the lights to highlight the midtones/highlights/shadows...
5.Here is the final result
Thats all !
GO to:
Page 1 : Photoshop tuning White lights
TechTut.com This tutorial is copyrighted. Partial duplication or full duplication is prohibited and illegal. Translation or usage of any kind without authorís permission is illegal.

Join our RSS feed
Use our RSS feed to get the latest published tutorials directly to your news reader.