Added: 30 August, 2007
Group: Maya
Create realistic looking Onion
Author: TechTut.com
page: 1
Onions in Maya part 1
No matter what kind of onion you prefer, the spring onion created in Maya looks best. See for yourself. If you want to learn, click here !
Create a tube
Open Template brush and make adjustments
Set Global Scale 3, Check Tubes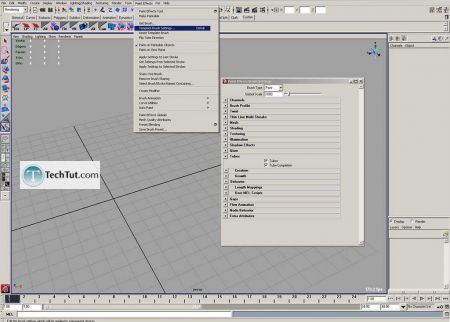 Draw one tube:
Open Tube->Creation category and tweak elevation 1,1:
Open Growth and add Twigs, make adjustments as on picture:
Again go back to Tubes category and set values as on picture
Scale it, with Width Scale:
Must be something like this:
Now go to Behavior->Forces and add gravity:
Add some turbulence for it, set it 0.05 and frequency 0.3, also go back and ajust
gravity for 0.15:
GO to:
Page 1 : Onions in Maya part 1
GO to:
Page 2 : Onions in Maya part 2
TechTut.com This tutorial is copyrighted. Partial duplication or full duplication is prohibited and illegal. Translation or usage of any kind without author�s permission is illegal.

Join our RSS feed
Use our RSS feed to get the latest published tutorials directly to your news reader.