Added: 1 November, 2007
Group: Poser
Using items from poser library
Author: TechTut.com
page: 1
Using items from poser library part 1
This tutorial will show you how to use items from library and dress a model.
Today we will "dress" model James.
1. To start work model James without clothes is necessary to us,
it is possible to take it from library.
2. Press Figures, next James and choose model James: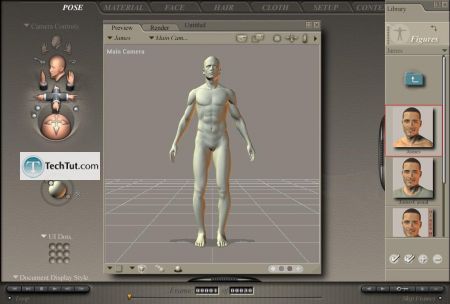 3. Begin from above - make a hairdress, it is possible to create own,
in section Hair or to choose already available in library, they are in Hair:
4. Choose liked hairdress and add it, by double-clicking:
5. At this step choose head's camera:
6. And make render:
7. Change hairdress if required, for replacement - first select a hairdress, remove and choose new.
8. Apply glasses, types of glasses can be found in Props: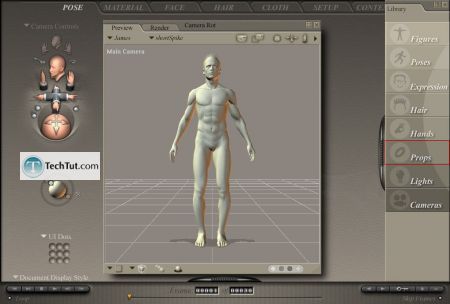 9. We making sport character, therefore I have chosen glasses SunGlasses Black:
10. For viewing make render:
11. We will need to pick up James clothes, it can be found in Props, I have chosen such types:
12. Boxers:
GO to:
Page 1 : Using items from poser library part 1
GO to:
Page 2 : Using items from poser library part 2
TechTut.com This tutorial is copyrighted. Partial duplication or full duplication is prohibited and illegal. Translation or usage of any kind without author�s permission is illegal.