Added: 1 November, 2007
Group: Poser
Using items from poser library
Author: TechTut.com
page: 2
Using items from poser library part 2
13. Shoe Athletic L and Shoe Athletic R ^
14. Watch Silver:
15. After application all these objects render looks as on picutre:
16. Make correction of defects for shorts,
for this purpose it is possible to go two ways to adjust shorts under
feet or feet under shorts, we will use the first variant,
by moving and using other tools in Poser adjust position of shorts as on image:
17. Make animation of hands, at 0 frame they in initial position,
and at 30th - raised, watches already attached to figure. Also with raised hands
it is easier to adjust shorts.
18. In the same way adjust footwear:
19. With parameter Side-Side turn boots a little:
20. Final result: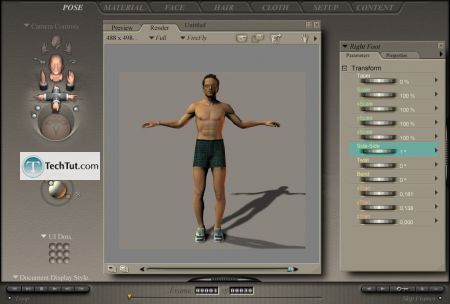 21. Such objects as watches, glasses, and hairdress are already ready for using,
however boots and shorts not attached to James figure:
22. Select Left Foot and go to menu Object -> Properties, press button Set Parent
23. Choose object to which we want attach Foot:
24. Do this operation for each Props object.
Our model is ready.
GO to:
Page 1 : Using items from poser library part 1
GO to:
Page 2 : Using items from poser library part 2
TechTut.com This tutorial is copyrighted. Partial duplication or full duplication is prohibited and illegal. Translation or usage of any kind without authorís permission is illegal.

Join our RSS feed
Use our RSS feed to get the latest published tutorials directly to your news reader.